Transforming Radiology across borders
RADSpa is Telerad Tech's Next Generation AI Integrated Radiology Workflow Platform with an Integrated RIS PACS, designed to scale from a standalone diagnostics center to large-scale Multi-Site, Multi-Geography radiology centers & hospitals. RADSpa is available in Cloud, Enterprise, and OEM Licensing models.
It is currently deployed in more than 24+ countries with highly advanced Analytics and Workflow Orchestration capabilities. It supports flexible radiology needs with customizable and dynamic workflows enabling seamless delivery across borders. It's enhanced Patient Security Framework enables secured and anonymized cross-border study transmission and reporting.
RADSpa comes with an integrated FDA approved & CE Certified DICOM viewer, 0FP viewer, a 3D viewer, Analytics & MIS Dashboards, Vendor Neutral Archive (VNA), Smart Reconciliation, and Dropbox integration, etc. RADSpa has been designed by a group of technologists and radiologists in a radiology ecosystem. It is thus equipped with most efficient and radiologist-friendly customizable and dynamic workflows.
Another unique feature of RADSpa is the Smart Reconcile. This feature ensures that studies are matched and assigned as per pre-defined rules. This enables validation of studies prior their assignation to a radiologist, in turn optimally utilizing Radiologist time in analyzing the studies. RADSpa RIS capabilities and Concierge Automation & Automated workflow features like auto-assignment of cases, easy EMR/EHR/HIS integration, Patient Portal, Modality Worklist etc., minimizes the manual intervention and maximizes radiologist's productivity by 30% – 40%.
The RADSpa analytics dashboard provides the feasibility to the users, based on their role to define the KPI's and customized view of the data through graphical indicators. RADSpa also empowers VNA and alert mechanism in critical scenarios.
Telerad Tech is fast ramping up the Image Analytics Platform which will enable RADSpa RIS PACS with next-generation deep learning capabilities with automated prioritization, segmentation, auto-detection of Medical Conditions in Radiology.
Providing new
Opportunities
for Teleradiology
RADSpa is a product of choice for many teleradiology companies as its features meet the unique requirements of Tele-reporting services, such as:

Orchestrated Workflow Management feature helps error-free assignment of the studies to designated radiologists

Enables hassle free integration with any existing PACS, and thus doesn't require any major overhaul of the current systems

In-built QA and peer review module facilitates collaboration as per ACR grades

Multi-read Workflow management for prelim and final reads
Amazing RADSpa
– Designed to Improve Radiology Efficiency

 Jump Start Radiology Services with no additional IT investments

  Have patient's complete imaging record on your fingertips

  Connect and collaborate with your fellow practitioners

  Save costs and increases your radiology productivity by 30-50%

  Reduce Turn-Around-Time (TAT) with integrated AI-enabled RIS PACS workflow

  Create potential for new and increased revenue streams like Telereporting and Second Opinion Services

  Earn higher Radiologist Productivity and More Profitable Radiology Practice

  Peace of mind with 24X7 technical support

  Share patient studies between facilities fast and securely

  Securely acquire, upload, view, diagnose, annotate, report and archive studies
RADSpa is suited for Radiology and Teleradiology reporting needs of virtually all kinds of customers,
including: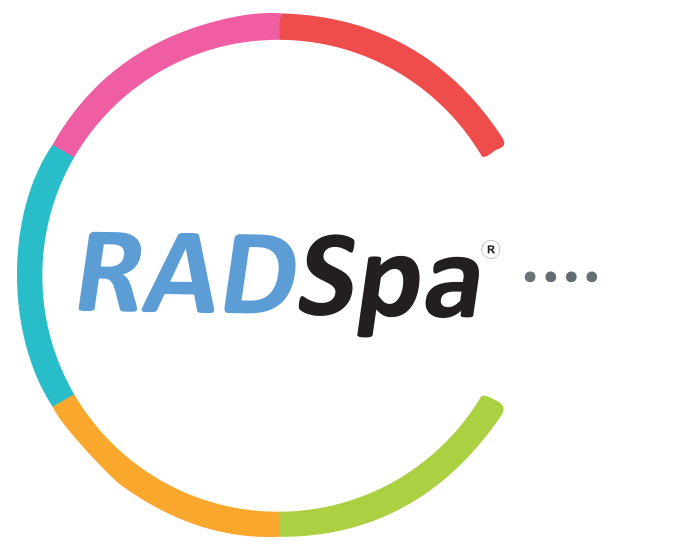 ➤Independent Radiologists providing Onsite Read and Telereporting Services.
➤Radiology and Teleradiology Service Providers.
➤Single-site Hospitals and standalone Medical Imaging Centers.
➤Medical Imaging Chain dispersed across geography.
➤Multi-site, Multi-geography Hospitals.
➤Medical Colleges, Universities and Research Institutes.
➤Chain of Primary, Community, District and Sub-divisional Government Hospitals.
➤Mobile Diagnostic Units.
➤Single clinics in Cardiology, Oncology, Mammography, Orthopedics and Chiropractic.
➤Original Equipment Manufacturers

Russia | Germany | United Kingdom | France | Italy | Spain | Poland | Ukraine | Romania | Netherlands | Belgium| Sweden | Czech Republic | Greece | Portugal | Hungary | Belarus | Austria| Switzerland | Serbia | Bulgaria | Denmark | Slovakia | Finland | Norway | Ireland | Croatia | Moldova | Bosnia and Herzegovina | Albania | Lithuania | Slovenia | North Macedonia | Latvia | Estonia | Luxembourg | Montenegro | Malta | Iceland | Andorra | Liechtenstein | Monaco | San Marino | Holy See
Arabic Countries
Algeria | Bahrain | Comoros | Djibouti | Egypt | Iraq | Jordan | Kuwait | Lebanon | Libya | Mauritania | Morocco | Oman | Palestine | Qatar | Saudi Arabia | Somalia | Sudan | Syria | Tunisia | The United Arab Emirates | Yemen.
African Countries
Nigeria | Ethiopia| Egypt| DR Congo | Tanzania | South Africa | Kenya | Uganda |Sudan | Algeria | Morocco | Angola | Ghana | Mozambique | Madagascar | Côte d'Ivoire | Cameroon | NigerMali| Burkina Faso| Malawi | Zambia | Chad | Somalia | Senegal | Zimbabwe | Guinea | Rwanda | Benin | Burundi | Tunisia | South Sudan | Togo | Sierra | Leone | Libya| Congo| Central African Republic | Liberia | Mauritania | Eritrea | Gambia | Botswana | Namibia | Gabon | Lesotho | Guinea-Bissau | Equatorial Guinea | Mauritius | Eswatini | Djibouti | Comoros | Cabo Verde | Sao Tome & Principe | Seychelles
North American 
USA | Canada | Mexico | Cuba 
Oceania
Australia | New Zealand | Papua New Guinea
Asian Countries
India | Indonesia | Bangladesh | Japan | Philippines | Vietnam | Iran | Turkey | Thailand | Myanmar | South Korea | Iraq | Afghanistan | Malaysia | Nepal | North Korea | Sri Lanka | Jordan | Singapore | State of Palestine | Georgia | Mongolia | Timor-Leste | Cyprus | Bhutan | Maldives | Brunei