Unleash the Power of AI Enabled RIS PACS
RADSpa: RIS-PACS is Telerad Tech's Next Generation AI Integrated Radiology Workflow Platform, designed to scale from a Standalone diagnostics center to Large-scale Multi-Site, Multi-Geography Radiology Centers & hospitals. RADSpa is available in Cloud, Hybrid, Enterprise and OEM Licensing models. RADSpa RIS-PACS Platform is being used by more than 1500+ teleradiology service providers .
Telerad Tech is fast ramping up the Image Analytics Platform which will enable RADSpa RIS PACS with next-generation deep learning capabilities like Automated Prioritization, Segmentation, Auto-detection of Medical Conditions in Radiology.
All in One Radiology Solutions
Jump Start Radiology Services
Orchestrated Workflow Management
RADSpa Analytics/MIS
Reduced TAT with AI-enabled RIS PACS workflow
Patient Security Framework
Predictive Rule Engine
24×7 Technical Support
Predictive Rule Engine
MPR / MIP / 3D Viewer
Real-time Worklist
Zero Footprint Viewer / Web-based Reporting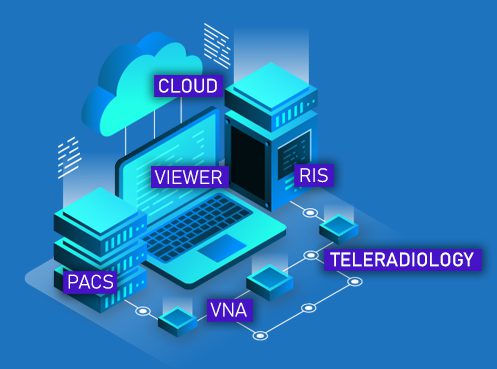 RADSpa: Accelerated Radiology Workflow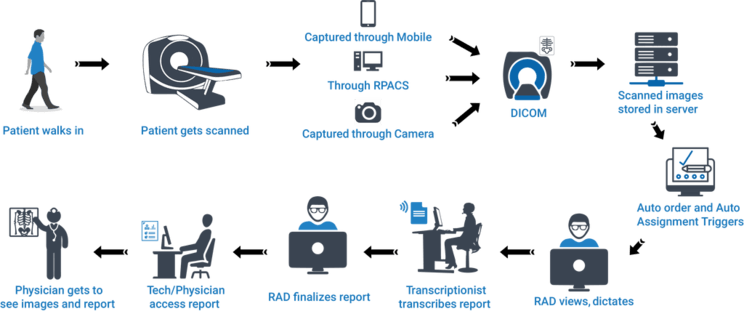 RADSpa comes with auto-order and auto-assignment features which makes the Radiology workflow easier and automated. It also enables faster uploading of images even at lower bandwidth conditions with in build peer review module.
AI-Powered Algorithms in RADSpa
Telerad Tech's in-house AI algorithms has been seamlessly integrated with RADSpa to make it a complete radiology software. These AI tools, when executed over the scanned medical images, empowers Radiologists to provide increased, consistently accurate and faster diagnosis. To give a unified AI experience to the user, integration of RADSpa workflow with any 3rd party AI tool is also possible.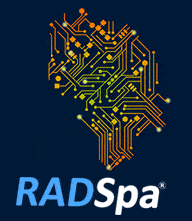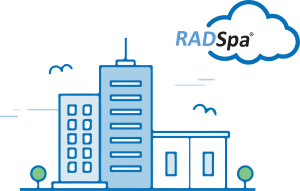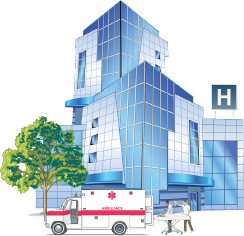 Real-Time Performance Dashboards
RADSpa's analytics gives snapshot of analytical information that helps medical imaging facilities to optimally utilise their resources. It presents complex data in the form of simple and actionable visual reports. Performance reports can be generated on multiple parameters and for variety of usage. Some common ones include:
1. Report by Order type (Emergency, Electives)
2. Report by Modality type
3. Productivity Report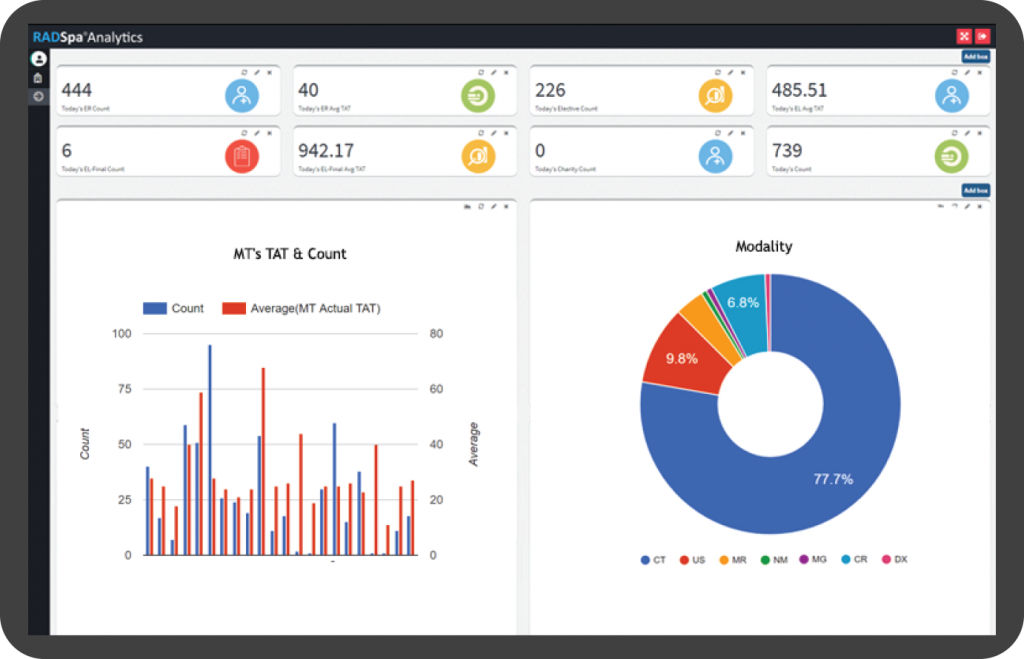 Telerad Tech was established in 2009 with the goal of optimizing radiology productivity and improving patient outcome delivery through transformational medical imaging software solutions. Today, it is amongst the market leaders in providing integrated RIS-PACS software solutions for teleradiology, medical imaging centres, and hospitals of all sizes globally. Telerad Tech's solutions cater to workflows needs across departments, including Radiology, Cardiology, Podiatry, Orthopedic, Chiropractic, Oncology and Veterinary.