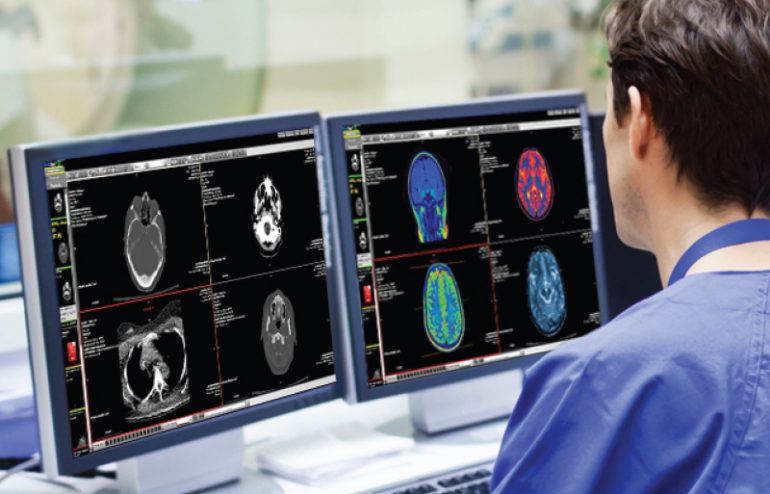 ---
Replacing existing RIS-PACS? Or a first time RIS-PACS buyer?
Struggling with what to do about an outdated RIS-PACS? Or, planning for RIS-PACS for the first time? In either case, it is not an easy and simple decision to take. But prolonging the decision will not help either. There will always be a dilemma, for an existing RIS-PACS user, regarding whether to pay the upgradation cost and stick to the same old vendor who ask for big bucks for each single support or whether to replace existing PACS with a new system which also comes with value added features such as AI algorithms in-built into the RIS-PACS. Other factors which needs to be considered before switching to a new system include the data migration costs, training costs, opportunity costs, related hardware upgradations costs, regulatory environment., cost of upgradation versus going with a new system, all these questions have to be answered.  As per expert estimate, transition and migration to a new system may take from 30-90 days. The challenge is also therefore to identify a vendor which can fast track the transition to maximum 15 days while ensuring that the ongoing work is not affected.
Finding the appropriate RIS-PACS can be a big challenge. Few important questions that needs to be asked regarding a new RIS/PACS is that it must be affordable, faster, should have prior studies uploading feature, voice recording feature, ability to integrate with third part voice recognition system such as dragon application or PowerScribe, and ability to be integrated with the hospital information system amongst the few important pre-requisites. Growing number of RIS-PACS providers are placing emphasis on reporting on the cloud feature.
What is an Integrated Radiology Information System (RIS) PACS?
PACS, or picture archiving and communication system, is a medical imaging technology used for storing, retrieving, presenting and sharing images produced by various medical hardware modalities, such as X-ray, CT scan, MRI and ultrasound machines. While digital medical imaging has brought in enormous savings for the imaging centres in terms of archival, storing, retrieval and sharing. It is the Radiology Information System (RIS), which helps manage the radiology workflow and the business.
Older RIS/PACS consisted of disparate systems – one for archiving patient images and one for storing patient records. Often, it would be noticed that the patient data in the PACS database may not be same as the data entered in the RIS database. If there is a mismatch between patient's name or other demographic details entered in the PACS and RIS databases, then the system will not be able to correctly access all relevant records.  Such discrepancies can cause unwanted inconvenience to patients and referring physicians while also expose the facilities to unwarranted risks and legal liabilities.
Functions of RIS
Some of the key functions of RIS includes order entry; patient scheduling, assigning studies; tracking number of exams; assistance in billing etc.  A combination of the two (PACS and RIS) is termed as an integrated RIS-PACS. An integrated RIS-PACS gives radiologists or the administrators access to evidence-based insights such as which modalities are being used the most, which referring physicians are sending maximum exams, radiologist productivity, turn-around time, busiest time, days or week of the month etc.
An imaging facility stands to make enormous gain in terms of patient and financial outcomes if they choose an integrated RIS-PACS. RADSpa is one of the best Integrated RIS-PACS available on the shelf and deployable in various situations and for different kinds of facilities.
Now, what is AI-enabled RIS-PACS?
AI -Enabled RIS PACS is a platform on which resides numerous AI algorithms developed by the RIS-PACS providers themselves or those provided by niche AI companies. For example, the RADSpa RIS-PACS platform is AI enabled. So, when you go with RADSpa, you also get access to a number of algorithms. What makes this system very interesting is the fact that there are no initial upfront investments on AI part. You pay for the algorithms, only when you use them. That, too, it is pay-per-use system.
To replace or retain?
There was a time when the average longevity of a RIS-PACS would be around 7-10 years. But now in the current fast developing diagnostic imaging space where not only the volume of imaging and its complexities are growing by leap and bound but also the regulatory and privacy requirements such as HIPAA and GDPR, which is forcing radiologists to be always hard pressed for time and for quality reporting.  Any delay or hesitation in decision making can be hazardous to imaging business.
But hesitation presents hazards
Imaging facilities need to appreciate that failing behind on modernization and working with an out-of-date RIS-PACS can have serious consequences for clinical efficiency and financial health of the centre.  In addition, sticking to system which has far outlived its lifespan can also make it tough for a facility to keep up with the expectations of referring physicians, affiliated organizations and patients.
Telerad Tech, the global health IT company and one of the leading providers of integrated RIS-PACS Workflow strongly recommends that while analyzing current RIS-PACS and its vendor, an imaging facility should do proper audit in the key areas of operations such as – administrative, clinical, information technology (IT), regulatory environment and the market.
Important points to consider
For instance, if your existing PACS or RIS-PACS chokes your competitiveness, is unable to give you important insights regarding productivity of manpower, modality machines, have a confusing user interface, or simply doesn't give you the next generation workflow tools such as workflow orchestration that optimize your productivity, you should consider a new system. Also, you should take into account the regulatory environment such as HIPAA and GDPR and go with systems which is capable of anonymizing patient data and is able to give you patient security framework (PSF) gateway, if needed. Teleradiology companies who are either reporting or have an ambition to serve defense hospital establishments, should ideally look for RIS-PACS which comes with PSF Gateway feature. RADSpa, which comes with PSF feature, is deployed at multiple hospitals under the Navy establishment in Mexico.
Making the Switch
Finally, having decided to switchover to a new RIS-PACS, a facility should first clearly define its requirement. Talk to vendors who can help you assess your current and future growth requirements.
First Time RIS-PACS buyers
For a facility which is considering acquiring PACS for the first time, they should look for a solution which offers latest productivity tools, can integrate with the existing DICOM compliant modalities amongst other features which are explained below.
Listing the requirements
Begin your process for procuring RIS-PACS, like for any other product, by listing the requirements. If possible, involve the Radiologists, Technicians, IT Team, Operations Team, and Finance Team in the process. Your list of requirements can include:
RIS-PACS should easily and fast integrate with existing modality machines;
System should be able to integrate with existing Hospital Information System (HIS) through Health Level 7 (HL7) protocol;
Should be able to reduce the turn around time (TAT) and increase productivity;
Should be able to integrate with existing PACS, without requiring any major overhaul of the system;
For teleradiology companies which have complex workflow and QA requirements, the facility should look for systems which has multi-read workflow management features and whose QA and peer review module facilitates collaborations as per ACR guidelines;
The new system should have smart features like workflow orchestration, real-time work lists, CD burning feature, multi-monitor support;
The RIS-PACS should meet regulatory requirements of FDA and should be CE certified, HIPAA and GDPR compliant;
Should have advanced 3D DICOM Viewer Features such as Minimum Intensity Projection (MIP), Maximum Intensity Projection (MIP), Multi Planar Reconstruction (MPR), and sculpting tools;
Radiologists/facilities often want to customize layout in the viewport using custom feature which helps standardize the workflows as per their specific requirements. So, look for such features in the system proposed by your vendor;
Facilities should also look for RIS-PACS which offers hanging protocol features for each specific modality machine;
Vendor Neutral Archive (VNAs) technology is today a game changer. VNA is enabling imaging facilities to archive and retrieve millions of medical images generated by disparate modalities from many different vendors. So, look out for RIS-PACS which is VNA compliant;
If you are a new and starting small, look for solutions which will be able to grow with you, i.e., look for a solution which is scalable;
Depending upon your specific choice, you may go with a solution which is pure cloud so that you can jump start radiology without any major investments in IT infrastructure;
You may go with an on-premise solution, if your already have the IT infra and manpower in place or have the capital to invest in on-premise solutions;
Products like RADSpa also offers something called Hybrid solution that stores images on site in the local system, while RIS is available on cloud which gives the flexibility to report from anywhere. This type of systems can potentially reduce your investments and recurring bandwidth expenditure by up to 30%.
Timing
Regardless of the fact that whether you are switching to a new system or a first-time buyer of RIS-PACS, it is the timing which is most important. The transition should be such that the normal operations are not affected. You can also go for a trial run for about a month so that your team is well familiarized with the software. RADSpa offers free trial to most of its prospects after properly assessing the seriousness of the customer.  So, go on, and go for your new system to leapfrog your facility to an integrated and AI-Enabled RIS-PACS environment.